Loaded French Toast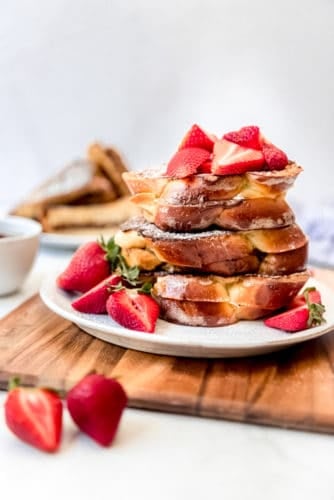 The Chef Me Not family kids always relied on French Toast when they figured they need to make breakfast for mom or dad. Usually a parent holiday or birthday. This reminds me of the DreamWorks movie "Madagascar" line when the penguins say "just smile and wave boys".
When first tasting the kids culinary efforts, good parents must say… "This is delicious…" or something to that effect.
This decadent Loaded French Toast is made with thick slices of challah bread that are filled with Nutella, dipped in the most wonderful custard, then fried to perfection and dusted with powdered sugar.
Weekends and special occasions call for indulgent breakfasts! Some of our other favorites are this Crepes Recipe, Eggs Benedict with Hollandaise Sauce, Delicious Cinnamon Roll Pancakes Recipe, and Easy Churro Waffles.
Loaded French Toast
There is something immensely satisfying about taking a loaf of stale bread and giving it new life by dipping it in a custardy egg mixture and frying it up in a little butter. But this Loaded French toast takes it to the next level of goodness by adding a layer of warm, molten Nutella in the center.
This is the kind of "fancy" breakfast food you might expect to order at a nice restaurant for brunch while on vacation. It's the perfect way to surprise the special people in your life and bring a smile to their faces.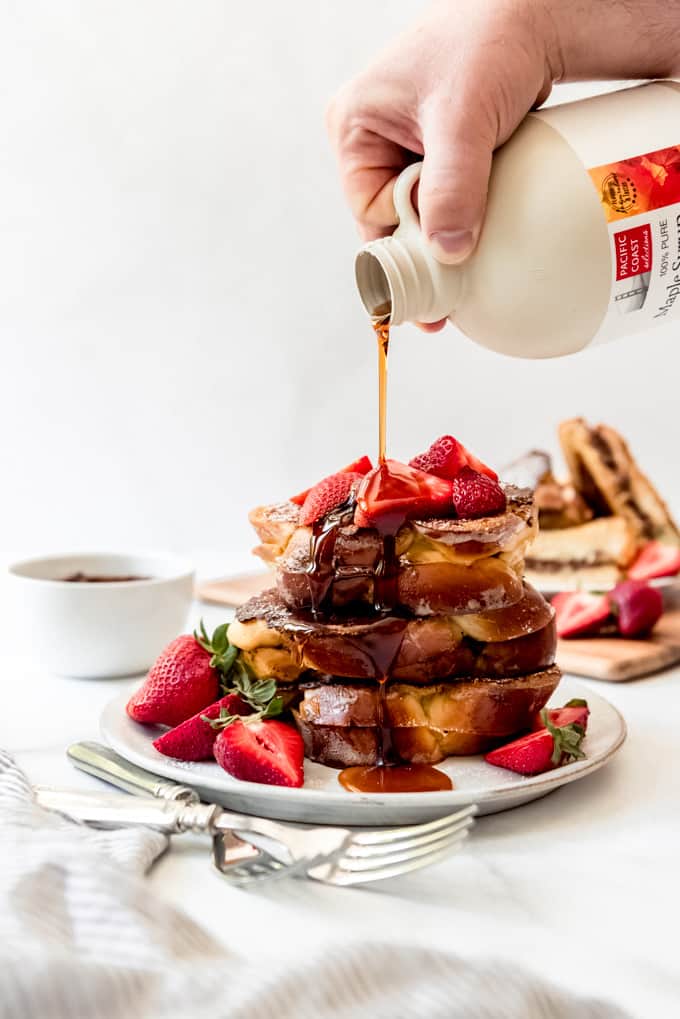 What you need to make Loaded French toast
The ingredient list is simple and straightforward for this Nutella Loaded French toast. But just like in my Secret Ingredient French Toast Recipe, it's the vanilla added to the soaking custard that makes all the difference in really fabulous French toast.
Eggs: large eggs are beaten to create the mixture that soaks and softens the bread.
Milk: thins and lightens the custard to make it creamy.
Cinnamon: a little ground cinnamon adds fantastic flavor.
Vanilla: the secret ingredient that should be included in every French toast recipe!
Butter: used to fry the French toast for a wonderful buttery crust.
Bread: thick slices of day old challah bread makes the best French toast, but brioche bread, Texas toast or French bread also work.
Nutella: this chocolate hazelnut spread is basically breakfast magic and makes everything more delicious.
Optional Toppings:
Powdered sugar: for dusting over the finished slices of stuffed French toast.
Fresh fruit: sliced strawberries or bananas are especially good choices.
Syrup: a drizzle of maple or caramel syrup really take this stuffed French toast over the top.
How to make Loaded French toast
Make the custard: In a medium size bowl or shallow dish, add the eggs, milk, cinnamon, and vanilla, and whisk together until smooth.
Assemble Loaded French toast: Spread one slice of bread with a nice even layer of Nutella then top with a second slice of bread to create a sandwich. Set aside for now.
Heat the skillet: You want the surface of your griddle or skillet to be nice and hot. Add the butter so it can melt.
Cook the French toast: Once the butter has melted and pan is hot, dip each piece of Nutella-loaded bread into the custard, flipping it to coat both sides for just a few seconds. Place in the melted butter and fry until golden brown. Flip and repeat on the other side.
Serve warm: Dust the finished loaded French toast with powdered sugar, then top with your favorite toppings and enjoy!
Tips for making Loaded French Toast
Use stale bread. It soaks up the custard better than really fresh bread and has a better texture when fried.
Don't spread the Nutella right to the edge. Leave a little border so it doesn't ooze out while the French toast is cooking.
Be careful not to soak the bread too long or it will be soggy and won't cook through. Dredging it for just a couple of seconds on each side is plenty.
I like to use whole milk but half and half or heavy cream can be substituted.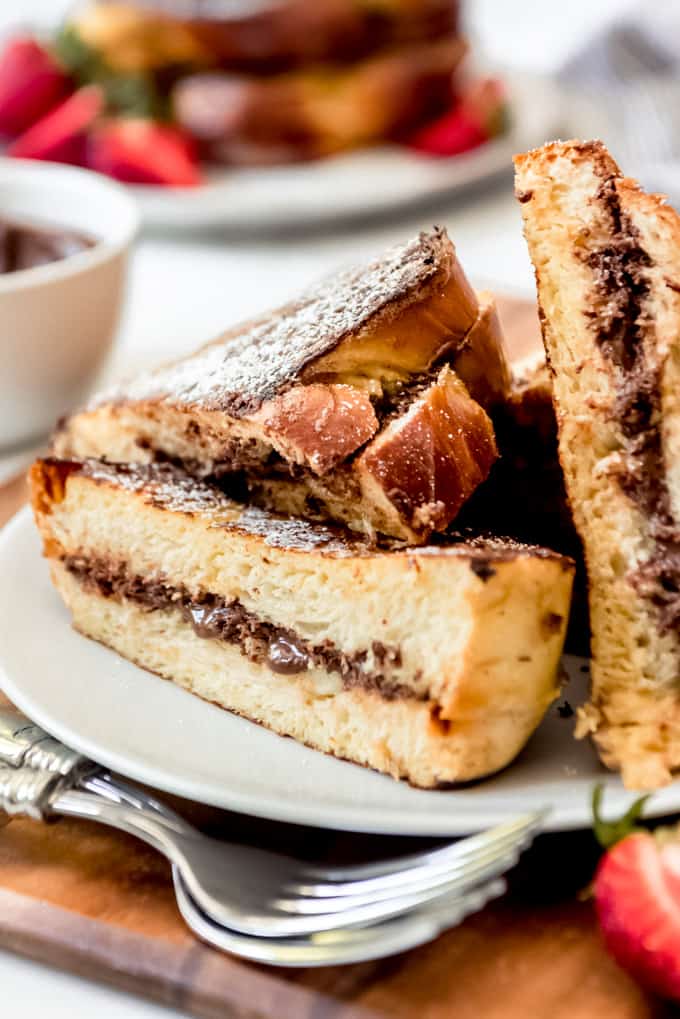 Loaded French Toast
This decadent Stuffed French Toast is made with thick slices of challah bread that are filled with Nutella, dipped in the most wonderful custard, then fried to perfection and dusted with powdered sugar.
Prep Time 15 minutes
Cook Time 5 minutes Servings 4
Calories 313kcal
Ingredients
4 large eggs
3/4 cup whole milk
2 teaspoons vanilla extract
1/2 teaspoon ground cinnamon
8 thick slices challah bread or other rich, eggy bread like brioche
1/3 cup Nutella
3 tablespoons butter
Powdered sugar, for dusting
Instructions
Whisk the eggs, milk, vanilla, and cinnamon in a medium bowl until combined.
Spread a slice of bread with nutella (about 1-2 tablespoons). Top with another slice of bread, sandwiching them together. Repeat until all of the bread and Nutella have been used.
Melt butter in a skillet over medium-high heat. When melted, dip each sandwich into the egg wash to coat both sides. Carefully lay each sandwich in the hot butter.
Cook until browned on both sides, flipping partway through. Transfer to a plate and dust with powdered sugar. Serve with fruit, whipped cream, or syrup.
Nutrition
Calories: 313kcal | Carbohydrates: 19g | Protein: 9g | Fat: 22g | Saturated Fat: 15g | Cholesterol: 192mg | Sodium: 175mg | Potassium: 223mg | Fiber: 1g | Sugar: 16g | Vitamin A: 574IU | Calcium: 106mg | Iron: 2mg
This post contains sponsored links, which means to you, I will receive a small commission when you purchase through the link.
---
---