Buddha Bowl
This Vegan Buddha Bowl is loaded with colorful raw summer vegetables, whole grains, good fats, and topped with a tangy creamy balsamic dressing. Make adjustments to use up whatever vegetables you have on hand and enjoy this delicious vegan meal for lunch or dinner all summer long!
It's summer time and there is an abundance of fresh produce ready to be eaten! A great way to enjoy all those vibrant vegetables is in a Buddha Bowl!
VEGAN BUDDHA BOWL
If you'd like to eat a more balanced diet, start making Buddha Bowls! They are so easy to throw together, taste awesome, and make you feel so good. They are so versatile but here is a my fresh garden version that is loaded with raw crisp veggies, chickpeas, quinoa, spinach, basil, and topped with a yummy creamy balsamic dressing.
WHAT IS A BUDDHA BOWL?
A buddha bowl is a plant-based one-dish meal. It is usually made and served in a large bowl and consists of: a whole grain, greens, protein (usually vegan), vegetables, toppings, and a sauce. Some might also refer to it as a bliss bowl, power bowl, glow bowl, hippie bowl,…
A true Buddha bowl is vegetarian and typically vegan since Buddhists follow a plant-based diet but you will find that some "buddha bowls" have meat.

Quinoa Ingredients:
1 cup quinoa
2 cups water
1/2 teaspoon salt
For the Bowl:
8 cups baby spinach
1 1/2 cups grape tomatoes halved
1 English Cucumber sliced
1 can chick peas drained and rinsed
1 large avocado sliced
4 carrots peeled
1/4 cup sunflower seeds
8 basil leaves chopped
For the Creamy Balsamic Dressing:
3 tablespoons olive oil
3 tablespoon balsamic vinegar
3 tablespoon vegan mayonnaise or plain yogurt
1 teaspoon Dijon mustard
1 clove garlic
1/4 teaspoon kosher salt
Fresh cracked black pepper
HOW TO MAKE A BUDDHA BOWL:
Quinoa Instructions:
Place water and quinoa in a 2 quart pot and bring to a boil over medium high heat. Reduce heat to low, stir in salt, and allow to simmer for about 15 minutes or until a white tail appears around the grains.
Remove from heat, cover with lid, and let sit for 5 minutes. Fluff and then serve or refrigerate.
For the Dressing:
Puree all dressing ingredients together in a blender or with an immersion blender until smooth. Refrigerate until ready to use.
For assembling the bowls:
Assemble bowls with spinach, quinoa (warm or cold), chick peas, carrots, cucumbers, tomatoes, avocado, sunflower seeds, and basil. Drizzle with dressing and serve.
BUDDHA BOWL SAUCE:
You can really use any dressing or sauce for a buddha bowl. Some of my favorites are: tahini dressing, Creamy Cilantro Lime Dressing, pesto, a drizzle of plain olive oil, or this Creamy Balsamic Dressing.
To make this bowl completely vegan, use a vegan mayonnaise or yogurt. Regular mayo and Greek yogurt work great too.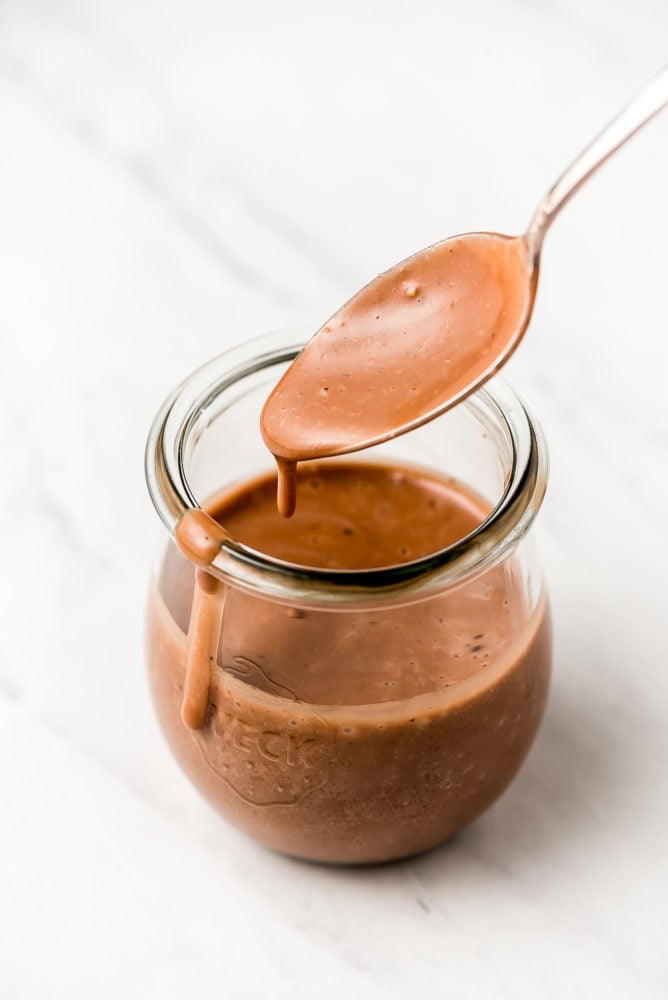 HOW TO MEAL PREP:
If you are not planning on serving all 4 bowls in one sitting, you can store the remaining ingredients in the fridge in large 64 ounce jars.
Place ingredients into the jars in this order: dressing, quinoa, carrots, cucumber, tomatoes, and spinach. I recommend adding avocado just before serving since they brown. The sunflower seeds can be placed in the top of the jar but can get a little soft so I would add those just before serving as well so you get maximum crunchy texture.
WHERE DID BUDDHA BOWLS GET THEIR NAME?
It is thought that the name might come from the fact that people would place food into Buddha's bowl as a donation as he walked the streets.
It could also possibly be called this because balance is an important Buddhist concept and this dish is a balanced meal of vegetables, protein, and healthy fats.
The large stuffed bowl, resembling Buddha's belly could also be a reason.
WHAT ELSE CAN YOU PUT IN A BUDDHA BOWL?
Honestly, you can put whatever you heart desires into that bowl. Here are some ideas so you can make more Buddha Bowls:
Grains: brown rice, quinoa, barley, farro, bulgur wheat…
Greens: spinach, romaine, spring greens, arugula, kale…
Vegetables: these can be raw, steamed, or roasted- sweet potatoes, broccoli, radish, cabbage, bell peppers, onions, beets, tomatoes, carrots, cucumber, peas, corn…
Plant Based Proteins: Beans, lentils, chickpeas, tofu, tempeh, edamame…
Toppings: nuts, seeds, dried or fresh fruit, herbs…
Fats/Dressings: olive oil, avocado, hummus, pesto, tahini, peanut sauce…
Vegan Buddha Bowl
Nutrition Facts:
Amount Per Serving
Calories 452 Calories from Fat 225
% Daily Value*
Fat 25g38%
Saturated Fat 3g15%
Sodium 560mg23%
Potassium 1323mg38%
Carbohydrates 49g16%
Fiber 11g44%
Sugar 8g9%
Protein 12g24%
Vitamin A 16477IU330%
Vitamin C 35mg42%
Calcium 136mg14%
Iron 5mg28%
* Percent Daily Values are based on a 2000 calorie diet.
---
---